It is my great honor and pleasure to invite you to the 12th World Biomaterials Congress (WBC), which will be held in Daegu, South Korea, May 26-31, 2024. WBC is a world-wide highlighting event to provide with a fascinating opportunity, where the participating experts can gather and share the latest information and knowledge in the diverse areas of biomaterials research. The venue for the event, Daegu, is the third-largest city in Korea, rich in cultural heritage sites and blessed with beautiful nature. We are looking forward to seeing you all in WBC 2024 to celebrate this momentous period of knowledge and discovery in biomaterials science, and also to share an enjoyable and memorable moment in a historic city, Daegu, South Korea.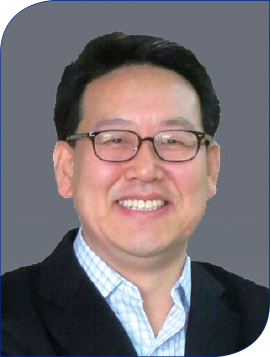 Ki Dong Park
Chair of Organizing Committee WBC 2024

Key Dates
Call for Symposia Proposal

August 1, 2022 ~ March 31, 2023

Notification of Proposal Acceptance

Abstract submission
(Symposia, Oral, Poster)

May 1, 2023 ~ November 30, 2023

Notification of Abstract Review Result

Early-bird Registration

May 1, 2023 ~ January 31, 2024
Program at a Glance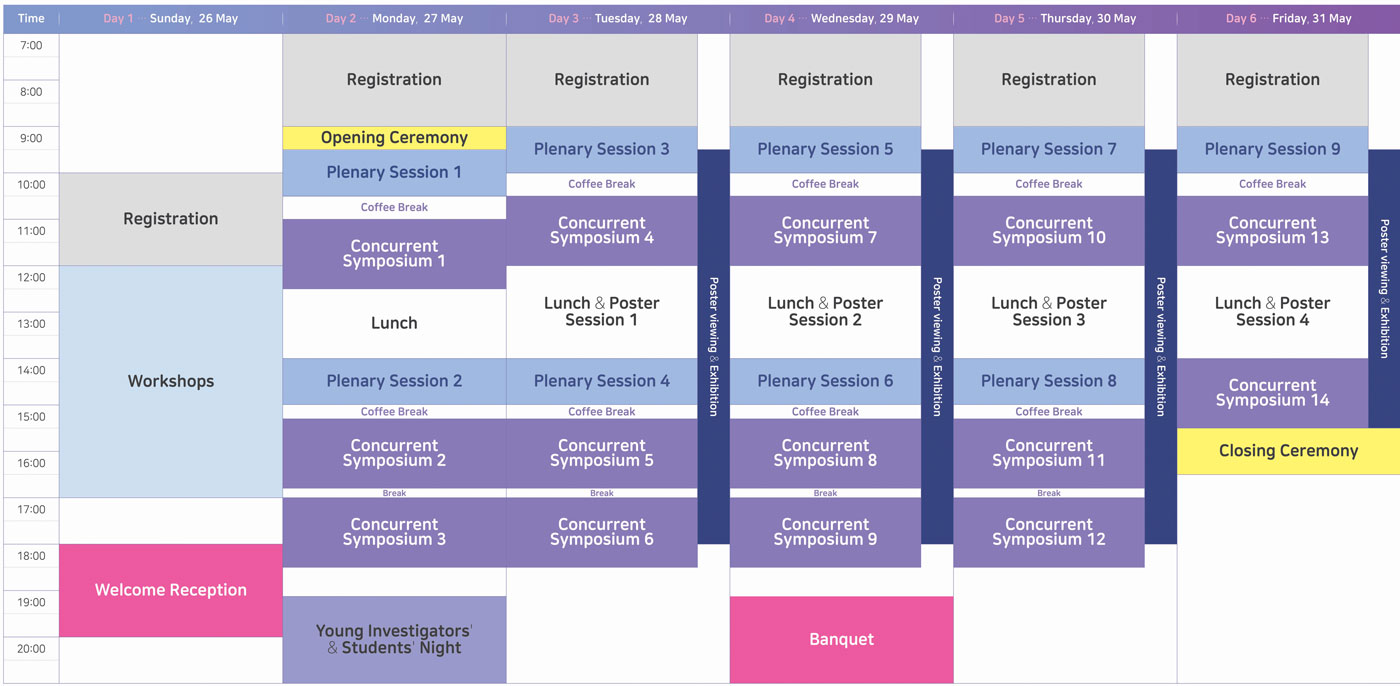 (Updated as of June 2022, this program is subject to change)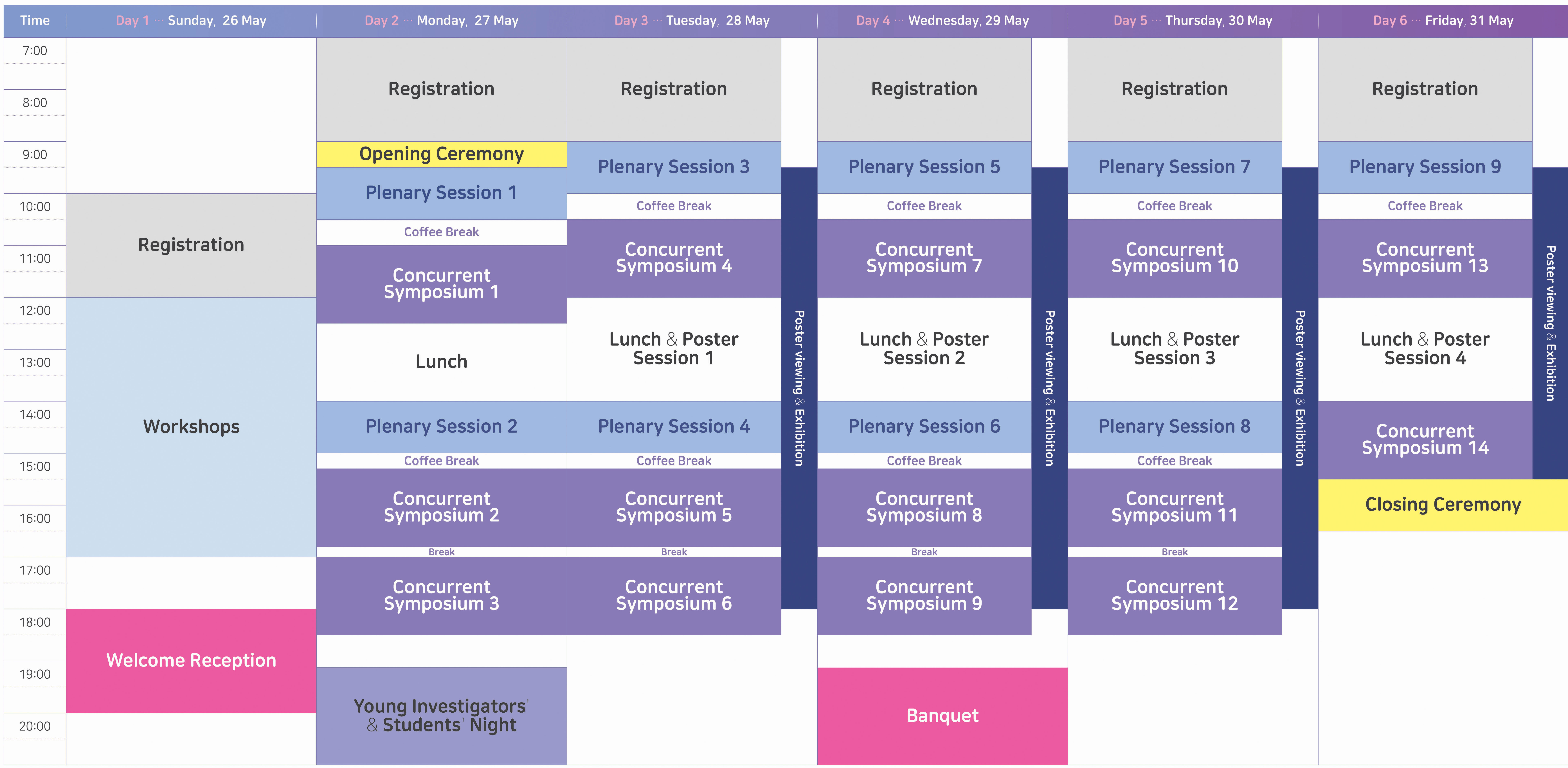 Organizing Committee
Congress Chair
Ki Dong Park
Ajou University
Congress Co-chairs
Yong-Hee Kim
Hanyang University
Dong Keun Han
CHA University
Secretary General
Kun Na
The Catholic University of Korea
Deputy Secretary-General
Kang Moo Huh
Chungnam National University
Young Bin Choy
Seoul National University College of Medicine
SungYoung Park
Korea National University of Transportation
Scientific Program Committee
Chair
Heungsoo Shin
Hanyang University
Vice chair
Ji Hoon Jeong
Sungkyunkwan University
Seung-Woo Cho
Yonsei University
Public Relations Committee
Chair
Oh Hyeong Kwon
Kumoh National Institute of Technology
Vice chair
In-Kyu Park
Chonnam National University Medical School
Planning Committee
Chair
Soo-Hong Lee
Dongguk University
Vice chair
Han Soo Park
Chung-Ang University
Finance Committee
Chair
Jong Chul Park
Yonsei University College of Medicine
Vice chair
Su-Geun Yang
Inha University
Opened in April 2001, Daegu Exhibition & Convention Center (EXCO) is a state-of-the-art convention and exhibition facility in the city of Daegu. EXCO has experienced a phase of extensive expansion that was completed in 2011. EXCO now comprises 24,000-square meter-exhibition space, a convention hall with 4,000 seats, an auditorium with 1,600 seats, and 34 conference rooms.

Strategically located at the center of the Daegu Distribution Complex, EXCO provides easy access to the Daegu International Airport, Daegu KTX Station, and Gyeongbu Expressway system.
Address

1676, Sangyeok-dong, Buk-gu, Daegu, Korea

Website

www.exco.co.kr

Incheon to Daegu


Korean Express Train
2hr 30 min.
Gimhae Airport to Daegu

47 Cities in 15 Countries
The Republic of Korea is a country of deep tradition and culture. Despite the rapid economic development and modernization in the last half of the century, Korean people still greatly value their five millennia of rich history and culture deeply rooted in the Confucious philosophy. The scenic natural landscape and valuable cultural heritage sites designated as World Heritage List by UNESCO embody a wide variety of values from artistic spirit to scientific rationality as witnessed in the traditional architecture of royal palaces or temples.

Daegu is a perfect place to experience Korean traditional culture! The city of Daegu is the center of traditional Korean culture with over a thousand years of history. Located at the center of the Three Kingdoms of Korea (Goguryeo, Baekje, and Shilla), the city of Daegu and the surrounding areas possess a rich history and an abundance of cultural heritage sites. The city is filled with cultural relics and UNESCO World Cultural Heritage Sites. Also, as a transportation hub linking all major cities, the city of Daegu is is conveniently located to visit numerous cultural heritage sites and tourist attractions that display Korean culture.